Chiropractor Austin TX
Welcome to In Balance Chiropractic and Acupuncture located in Austin TX. At In Balance Chiropractic and Acupuncture, our North Austin TX chiropractor does her best to meet the individual needs of each of her patients'. We provide exceptional care in a friendly atmosphere.
We are located in North Lamar, right in between Rutland Drive and Braker Lane. We are in the large Wells Fargo/Allstate building in front of Popeye's. You will then conveniently find us on the first floor, where you will enter to get well.
We don't use a one size fits all approach. We see our patients for the individual they are, with various different needs, pain threshold and sensitivity levels. We choose to use a variety of techniques and therapies to meet the needs of our patients.
Your Healthcare Goals. Our Team.
WHAT ARE THE BENEFITS OF CHIROPRACTIC CARE?
Too many individuals believe that chiropractic treatment is only useful for back pain. In fact, chiropractic treatment can be used to treat a wide variety of physical issues, including migraines and headaches, chronic pain, carpal tunnel syndrome, pain from injury or muscle strain, and a variety of other conditions.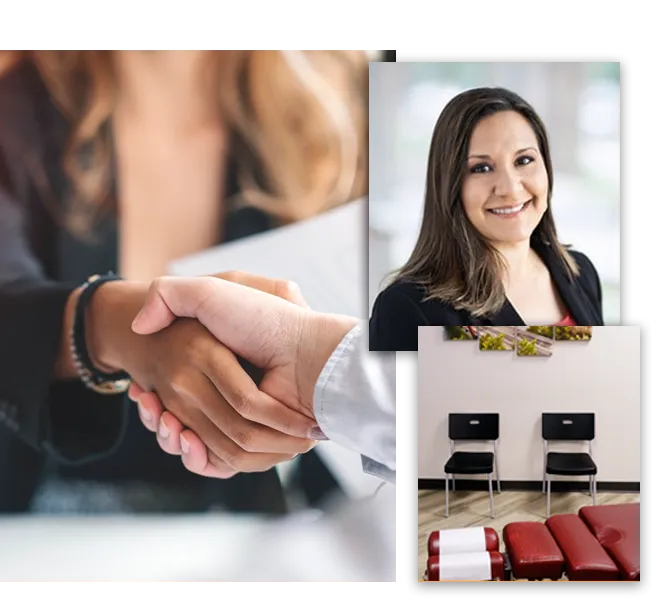 WHY I BECAME A CHIROPRACTOR IN AUSTIN TX
Dr. De Luna decided to become a chiropractor in Austin TX because her husband is from Austin TX, and they wanted to raise their children near family. Dr. De Luna strives to give comprehensive care with the most up-to-date techniques, which makes her one of the best chiropractors in North Austin TX.
COMMON MISCONCEPTIONS
Some common misconceptions that people have about chiropractic is that it will hurt, chiropractors are untrained professional or that it's too expensive. With chiropractic care, many people experience great relief after receiving an adjustment. When compared to most visits to the doctor's office, chiropractic care is actually less expensive. Considering long-term treatment plans that can involve medication, surgery, or intensive physical therapy, chiropractic care can often provide a less expensive, natural, healthy alternative Chiropractors attend 4 years of undergraduate school and go on to receive their doctorate after another 4 to 5 years of studies. They must also pass State and National board certifications to become licensed.
WHAT KIND OF EDUCATION MUST A CHIROPRACTOR GET?
To become a chiropractor, students must complete at least four years of training at a chiropractic institution, which is usually preceded by an undergraduate degree in the fundamental sciences or many years of experience in a prior related health care profession.
When learning the appropriate diagnosis and treatment techniques to help heal your body and restore it to optimal functionality, students of chiropractic care must spend a minimum of 4,200 hours with their teacher and a minimum of 1,000 hours in fully supervised clinical training with an instructor.
At In Balance Chiropractic and Acupuncture, our chiropractic staff is available to meet with you and discuss your requirements in further detail. We will work with you to create a program that is tailored to your needs. We are looking forward to hearing from you!